Italian Heritage Month Film Series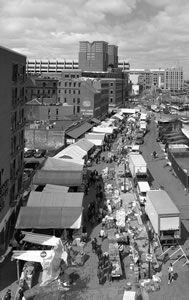 Movie: "Haymarket"
Wednesday, October 7, 2015 at 6:30pm
2015
NR
30 min
Language: English
Historic New England and The West End Museum present Haymarket, a documentary film directed by Justin Goodstein and produced by Historic New England with the Haymarket Pushcart Association.
Since the 1830s, Boston's Haymarket has served a constant stream of longtime residents, newly arrived immigrants, students, and tourists. Despite economic downturns, the advent of the supermarket, and massive construction projects from the Central Artery to the Big Dig, the Haymarket continues to be an economically vital and colorful gathering place for the city.
The Haymarket film uses photographs and oral history interviews with workers, shoppers, fans, and historians to tell the story of this beloved marketplace. Following the screening, there will be a discussion about Haymarket with filmmaker and photographer Justin Goodstein and Kenneth C. Turino, manager of community engagement and exhibitions at Historic New England.
Stars: Haymarket Pushcart Association
This movie is: Documentary
Director: Justin Goodstein
Cost: $10 ($5 HNE & WEM members)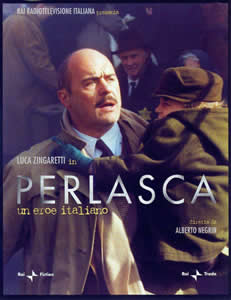 Movie: "Perlasca: The Courage of a Just Man"
(Perlasca: Un eroe italiano)
Wednesday, October 14, 2015 at 6:30pm
2002
NR
104 min
Language: Italian (English Subtitles)
It is the real story of Giorgio Perlasca (Luca Zingaretti). During the 1920s he was an Italian Fascist supporter, fighting in Africa an in the Spanish civil war where he deserved a safe conduct for Spanish embassies. After some years, disillusioned by fascism, he is a fresh supplier for the Italian army. In the war years he is in Budapest for his business. He lives an easy life there, well introduced into the Hungarian high society, without any problem coming from the war situation. When the Nazi occupied Hungary, in 1944, instead to leave (Italy had already surrendered to the Allies) he escaped to the Spanish embassy in Budapest using his old safe conduct and becoming a Spanish citizen, changing name into Jorge Perlasca. He starts working as a diplomat here. When Sanz Briz (Geza Tordy), the Spanish consul, is removed, Perlasca immediately substitutes him, like if he was officially appointed from Spanish authorities. All the Nazi, the Hungarian authorities believe him. In his new fake assignment, he starts immediately to hide, shield and feed a lot of Jews (thousands!) issuing Spanish (fake of course) safe conducts for the Jews of Sephardic origin. He is in contact with another Hero of that time, Raoul Wallenberg. The two, together with other volunteers, running incredible risks had saved thousands of Hungarian Jews from a tragic death. Incredibly Perlasca succeeded to save two boys directly from the hands of Adolf Eichmann at the train station. This hero, after the war, was completely forgotten, and his story comes out just in the 1980s because some of the Hungarian Jews wanted to meet him again.
Cast: Luca Zingaretti
This movie is: Biographical Drama / History
Director: Alberto Negrin
Cost: FREE (must pre-register)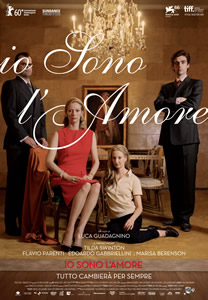 Movie: "I Am Love "
(Io sono l'amore)
Wednesday, October 21, 2015 at 6:30pm
2009
R
120 min
Language: Italian (English Subtitles)
I Am Love tells the story of the wealthy Recchi family, whose lives are undergoing sweeping changes. Eduardo Sr., the family patriarch, has decided to name a successor to the reins of his massive industrial company, and in so doing, surprises everyone by splitting power between his son Tancredi and grandson Edo. However, Edo dreams of opening a restaurant with his friend Antonio, a talented chef. At the heart of Tancredi's family is his wife, Emma (Tilda Swinton), a Russian immigrant who has adopted the culture of Milan. An adoring and attentive mother, Emma's existence is shocked to the core when she falls deeply in love with Antonio and pursues a passionate love affair that will change his family forever.
Stars: Tilda Swinton, Flavio Parenti
This movie is: Drama, Romance
Director: Luca Guadagnino
Cost: FREE (must pre-register)