Italian Heritage Month Film Series 2016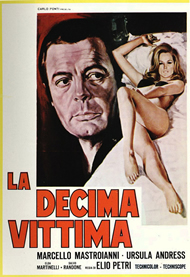 Movie: "The 10th Victim " (La Decima Vittima)
Wednesday, October 5, 2016 at 7:00pm
1965
NR
1h32m
Language: Italian (English Subtitles)
Some people like violence so much that they decide to create a club in which human hunts are organized in a game called Big Hunt – members being alternately hunters, and prey, until they end up dead. The winner of each round is awarded with a prize and the survivor after ten rounds, wins one million dollar award (in 1965). When the American huntress Caroline Meredith completes her ninth round, she comes to Rome to kill her tenth victim. Marcello Poletti is her target and he falls in love with her and he is reluctant to kill her.
Stars: Marcello Mastroianni, Ursula Andress, Elsa Martinelli
This movie is: Action, Sci-Fi
Director: Elio Petri
Cost: FREE (must pre-register)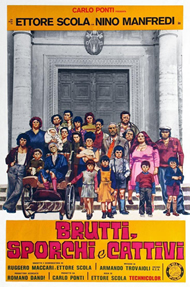 Movie: "Ugly, Dirty and Bad" (Brutti, Sporchi e Cattivi)
Wednesday, October 12, 2016 at 7:00pm
1976
NR
1h55m
Language: Italian (English Subtitles)
Four generations of a family live crowded together in a cardboard shantytown shack in the squalor of inner-city Rome. They plan to murder each other with poisoned dinners, arson, etc. The household engages in various forms of sexual idiosyncrasies, land swindles, incest, drugs and adultery.
Giacinto lives with his wife, their ten children and various other family members in a shack on the hills of Rome. Some time ago he has lost his left eye while at work, and got a consistent sum of money from the insurance company, which he keeps hidden from the rest of the family. His whole life is now based on defending the money he sees as his own, while the rest of the family concentrate on stealing it from him, but things turn very bad when he gets himself a mistress and decides that she will live with him, sharing the same bed as his wife… In a mix of hilarious scenes and realistic portraits of social degradation, we follow the adventures of this peculiar family in their struggle to survive everyday life.
Cast: Nino Manfredi, Maria Luisa Santella, Francesco Annaballi
This movie is: Comedy Drama
Director: Ettore Scola
Cost: FREE (must pre-register)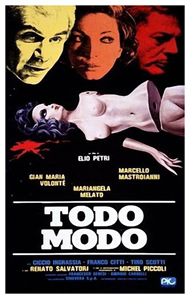 Movie: "Todo modo"
Wednesday, October 19, 2015 at 7:00pm
1976
R
2h5m
Language: Italian (English Subtitles)
Party leader and power broker Aldo Moro holed up with his cronies and rivals at a monastic retreat where they plot their political fortunes while being led by a Jesuit cleric in spiritual cleansings.
Made in 1976 as this pandemonium was reaching fever pitch, Petri's Todo Modo represents perhaps the most uncompromising example of Italian political cinema. Whilst dutifully concluding with a disclaimer to any reference to reality, the film effectively presents an accurate, if grotesquely-designed and highly-expressionistic portrait of both the Christian Democrat Party in particular, and of the Italian situation more generally at the time.
Stars: Gian Maria Volontè, Marcello Mastroianni, Mariangela Melato
This movie is: Drama
Director: Elio Petri
Cost: FREE (must pre-register)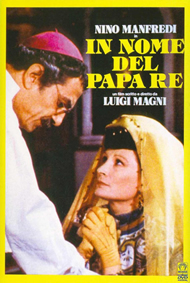 Movie: "In the Name of the Pope King "
(In Nome del Papa Re)
Wednesday, October 26, 2016 at 7:00pm
1977
R
1h45m
Language: Italian (English Subtitles)
In 1867, with Garibaldi's forces close to bringing Rome into the Italian kingdom, Monsignor Colombo da Priverno, a world-weary judge on the papal court, wants to resign, disgusted by the violence to which the papacy resorts to hold secular power. That night, three rebels blow up the Zouaves' barracks. Colombo learns that a brief liaison with a countess 20 years' before produced a son, one of the rebels arrested for the bombing. He uses his influence to gain the youth's release, hides him, and then engages in doomed battles of wit with the court and with the Black Pope to free the other two. Can this priest be a father, blunt power, and live out his faith?
Stars: Nino Manfredi, Danilo Mattei, Carmen Scarpitta
This movie is: Drama, History, Romance
Director: Luigi Magni
Cost: FREE (must pre-register)