Les Maitres de l'Affiche: Boston Connections-August 2015
Les Maitres de l'Affiche (The Masters of the Poster), published 1895-1900, is one of the most prestigious and influential art publications in history. The series featured some of the most outstanding posters of the late 19th century when this popular art form had reached its peak. Of the 97 artists represented all were prominent artists of the day, a number of Boston artists, publishing companies and galleries were selected to participate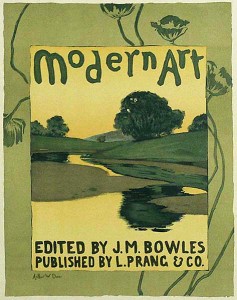 One of the most popular in the Maitre series, Plate 36 for the 1896 issue, is an increasingly rare masterpiece in American design and is considered one of the most original and beautifully printed posters of the decade.
Modern Art was a magazine founded by Arts and Crafts artist Joseph Moore Bowles in 1893. Originally printed by the Hollenbeck Press in Indianapolis, the magazine was acquired by Boston Lithographer Louis Prang in 1895.
Joseph Moore Bowles was a founding member of the Indianapolis based Portfolio Club, an association of area artists, writers, architects, teachers and musicians who gathered regularly for exhibitions, lectures and social events. Established in 1890, the club introduced the English Arts and Crafts movement to the area. Janet Payne would join the group in 1894, and in 1895 married Bowles.
Modern Art, published quarterly, was described as "one of the most influential art journals to spread the Arts and Crafts message." It promoted the ideas of William Morris, who in 1891 started his Kelmscott Press, which were works of art paying tribute to his favorite medieval authors. The couple moved to Boston in 1895 after the magazine was sold the magazine to Prang.
Plate 36 of Les Maitres de l'Affiche (1896) was designed by Boston artist Arthur W. Dow considered one of the most important painters and teachers at the turn of the century.
Trained in France, he was a painter of conventional landscapes in a Barbizon style up until 1891. That year, a book of Hokusai's prints led him to Ernest Fenollosa, curator of Japanese art at Boston's Museum of Fine Arts, from whom he gained a thorough understanding of Japanese composition. His ability to combine the two traditions brought him critical acclaim.
An influential artist and teacher, Dow's own work was heavily influenced by the "floating world" (ukiyo-e), of the Japanese woodblock masters and other Asian art influences, as well as the Arts and Crafts movement of William Morris in England. A teacher at many of America's most prominent art institutions (Pratt Institute, Columbia University Teachers College, the Arts Student's League, and his own Ipswich Summer School of Art), Dow's influence spread far and wide, including Georgia O'Keeffe, who was his most famous inspiration. Perhaps his most lasting gift to the art world was his 1899 manual, Composition: A Series of Exercises in Art Structure for the Use of Students and Teachers, which became a standard art text at schools across the nation. Dow's most famous poster, reproduced in the Maitres de l'Affiche was for the magazine entitled Modern Art.