Les Maitres de l'Affiche: Boston Connections-November 2015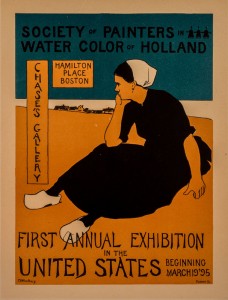 This American poster first appeared in Boston in 1895 to announce an exhibition of the Society of Painters in Water Color of Holland at the Chase Gallery. It was selected as Plate 112 for the 1898 issue of Les Maitres de l'Affiche. The poster was designed by Charles Herbert Woodbury a Boston artist best known for his marine, landscape, interior paintings and etchings.
Woodbury was from a comfortable, well-established family. He sold his first oil painting when he was 15, and in 1884 at age 17, was the youngest person ever elected to the Boston Art Club. After graduating from the Massachusetts Institute of Technology in 1886 with an engineering degree, Woodbury and his wife, Susan Marcia Oakes, went to study in Holland and then in Paris. He studied at the Academie Julian in Paris with Boulanger and Lefebvre.
J. Eastman Chase a prominent Boston gallery owner (1885-1895) recognized Woodbury's talent and gave him his first show in 1887; he would go on to have over 60 one-man exhibitions, the last at the Winchester Public Library in 1939, the year before he died.
Woodbury's work is represented at the Gardner Museum, the Art Institute of Chicago, Boston Museum of Fine Arts, St. Louis Art Museum, Boston Public Library, Metropolitan Museum of Art and at hundreds of other museums and institutions.
-The End-